I figured I would do a write up on the body lift that we did to my truck over the summer. The instructions that Zone send are very good, but there were a couple of things that had me grumbling and wasting time on. I may skip a couple of steps because I either didn't do them, or I forgot. I didn't take a ton of pictures, but I will post what ones I did. Feel free to ask me any questions or to elaborate on certain parts. Like I said, I forgot some stuff so you'll help jog my memory.

The best thing you can do for yourself is get tooled up! You will need a long breaker bar for this project. Metric sockets for the stock bolts and SAE for the replacements. Also, do yourself a favor and grab 6 more flat fender washers for 1/2" bolts. I somehow either lost 6 or didn't have them. If you have a nice flat surface to work on, it will make it so much easier. I used a friend of mine's bus shop and a couple of creepers for doing all the work under the truck and 2 ton jacks with blocks of wood for the lifting process. Chock your tires for safety (in the pictures below, I used invisible ones
)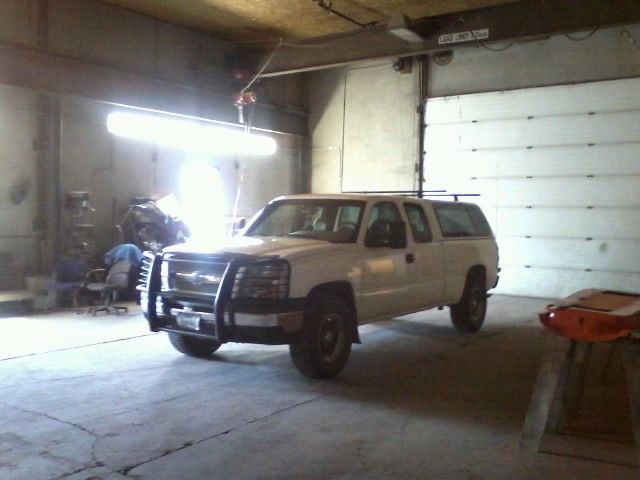 First off, like any other project that a guy needs to do, you should disconnect the negative battery terminal. This may not be a total requirement for a job like this, but it doesn't hurt to be safe! An 8 MM box end that ratchets will be very handy for this, as there isn't a ton of room for a regular ratchet, and a regular box end is kind of a P.I.T.A.

Next thing you will need to do is disconnect the grounding strap from the fire wall in the engine bay. You will be connecting it back up, but you will need to re-route it around some cables after the cab has been lifted. If you are doing a 3" body lift, you will also need to disconnect your steering linkage and will be adding in a extension later on. With the 1.5", you don't need the linkage.

Next, remove the grille and front bumper. Be careful removing the grill if you never have before. Even if you have, it's not hard to break the clips that hold it in. I have removed mine so much that I was being too aggressive with it to hurry up, and ended up breaking a clip. Here, the instructions also say you need to remove some clips that hold the transmission cooler lines and all that jazz. I never did, and have had 0 problems with them being kinked and such.




Next, you will need to pull the slack in your parking brake cable. To do this, you remove the clip deal from the body of the truck (drivers side), pull it tight, and use a pair of needle nose vice grips to keep it from going back. Keep the parking brake cable body clip out for now. Make sure you un-clip your parking brake hoses on the drivers side from their body mount clips. You will be able to put them back after.

If I remember everything correctly, you are ready to start lifting the cab. I started with the drivers side because I was on that side already. If you don't have a lot of rust on your truck, you COULD use a air ratchet to remove the cab bolts, but I suggest using a breaker bar just in case, as the cab bolts are not difficult to break. If you have a lot of rust, go along and soak the hell out of them with some penetrating grease/oil to help loosen them up. If I remember right, these were 18MM, and there were 4 or 6 of them, 2 or 3 on each side. Lift one side at a time! Remove one bolt at a time and replace the bolt and stock body busing with the new body lift block and longer bolt. I can't remember if I used the stock pads on either side of the block or not....I will look when I have the truck closer to me and edit that to let you all know. Don't worry about torquing down the bolts yet, as you will be removing one at a time to add some loc tite later on. Go slow when you raise the truck, and make sure you aren't kinking hoses/wires. You should only have to go up about 2 inches to be able to work with it.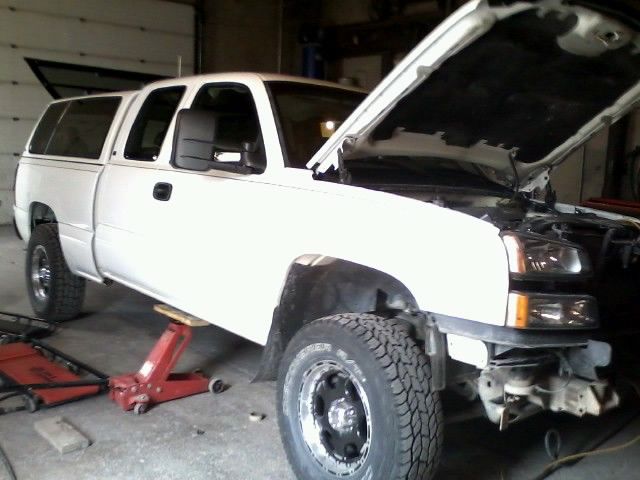 Once you get all of that done, it's time to start with the bed. IMO, this was the most challenging part. First of all, if you have never dropped your spare tire before, be in for a wrestling match with Hulk Hogan. It took me two hours just to drop that SOB. When you are done with it, reward yourself with some sign language in the tires direction:




I ended up removing the entire spare tire assembly as I had a full size spare that wouldn't fit under there anyway. Plus, I plan on putting a auxillary fuel tank in that gap, but that's for another thread. If you go that route, drop the tire as much as you can, support it with jack stands (in a triangle shape so you can still sit somewhat under it), then unbolt it from the frame (the bolt is between the bed and the frame and a real bitch to get to. I believe it was also an 18MM bolt, and was not very long). Once you remove the bolt, carefully remove the jack stands. If it is anything like mine was, the tire will drop on the rearward side of the truck, hanging towards the front. Next you will need to practice your karate and kick that ###### down. I kicked it about 10 times before it finally fell.

Next comes the bed lift. As you did with the cab, replace the stock bushings and bolts one at a time with the new blocks and bolts. There are 6 (for short bed trucks), 3 for each side. 2 of the round blocks for each side, one in the front and one in the rear. There is a square block with a small hold in the bottom that will go under the middle cross brace of the bed. These blocks come with self tapping screws that are about an inch or two long. If I remember right, I lucked out as there was a hole there already, but I can't remember off the top of my head.




Next will be putting the rear bumper back on. I worked on it for about an hour and I honestly can not remember what I did differently then putting on the rear bumper stock. I ordered the rear bumper kit, so it had some extra brackets. Here you will also use the very small 2" blocks on the top of your receiver. I was unable to get one of the bolts super tight due to a stripped bolt hole on my bumper.

Now you can start working on the front. The two outer bumper mounts (shaped like L's) will only need to be swapped right to left (or left to right) so that the mounting hole for the bumper is flipped. The middle mounting brackets from the factory will be cut off (we used an air powered cutting wheel) and the new bumper brackets will be mounted using a preexisting hole and a new drilled one. I suggest setting the bumper on some pillows as you may scratch it.

Once you have that done, there are two small blocks that you will put between the new brackets and front frame horns. Bolt it down, and then check your inventory of stuff you got from the kit. For a short bed, you should be left with two or four body lift blocks, a couple of extra bolts and nuts.

Go back and remove each bolt one by one, apply loc tite, and torque to specs (if I remember right, it was 60 ft. lbs., but the instructions say). The instructions said to go back after 500 miles and retorque, but I didn't until about 5,000 miles after and they were still fine. Do that at your own discretion. Reconnect the parking brake cable clip to the body, the hoses back to their clips, your grounding strap and your terminal wire, and you should be good to go!
Before: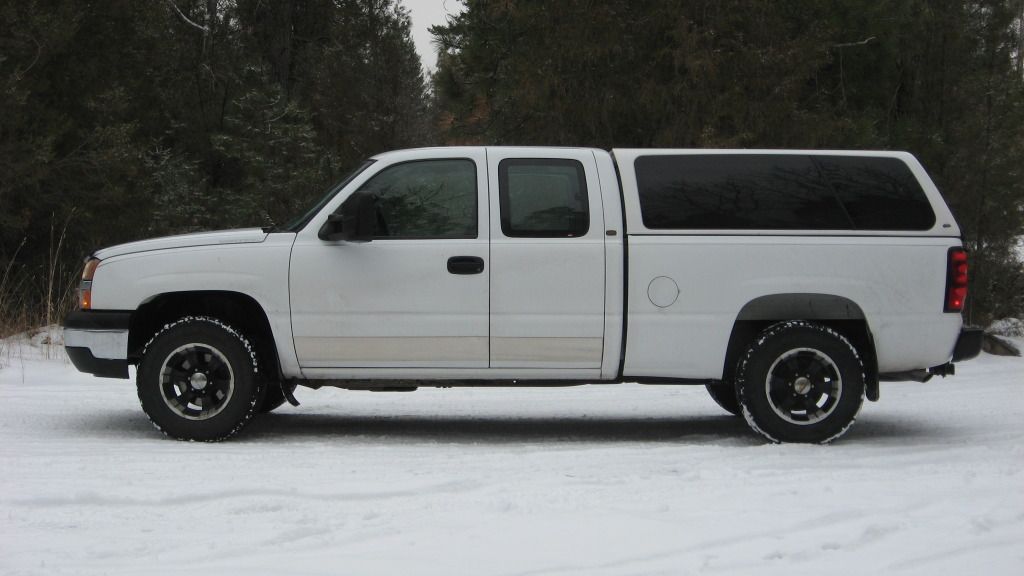 After:


I know this isn't the best how to on a body lift, but that's the best I can do without having done it in a while.
Edited by Jimmeh, 30 January 2013 - 08:28 PM.