hey guys, not a ton of pics here but you get the idea. After smashing my tcase crossmember so hard it pushed my tcase into my floor, I decided it was time for skid plating. I replaced the crossmember, then I build a skid using .25" steel plate. It measured about 44"x33" on my 89 RCSB. I used some 1/2" x 1/8" rectangle box as a spacer between the frame rail and skid. This also gave me about 3/4" drop of the skid below the frame rails which was good because it put a little more distance between the skid and my Tcase. That helped because the tcase is only about an inch higher than the frame rails. The GMT 400 is awesome in that respect with the np241's because you can go to a completely flat belly. Now high centering on trail obstacles is just fun and not destructive. I backed the plate with 3/16" angle in the areas around the Tcase. I would have liked to run an "X" across the whole plate but couldn't because of the tcase. So I put them in the areas around it and they should prevent bending for the most part. I really don't mind some minor bending.
I also used carriage bolts rather than hex head bolts so that they can get bashed as well and there is no need to worry about getting a wrench on them. I welded them to the plate and there is a nut on the inside of the frame rail which can be taken off easily by reaching in and unscrewing it. They are 1/2" grade 8 bolts. So overall, it was pretty simple. a big square, cut a notch for the driveshaft, and the corners off the rear, then add the spacers so the impact doesn't hit directly on the frame rails. the rectangle box will also crush before the frame rail will bend if the impact is that hard. this also is going to help keep my frame straight as it acts as another crossmember. So here is a few pics.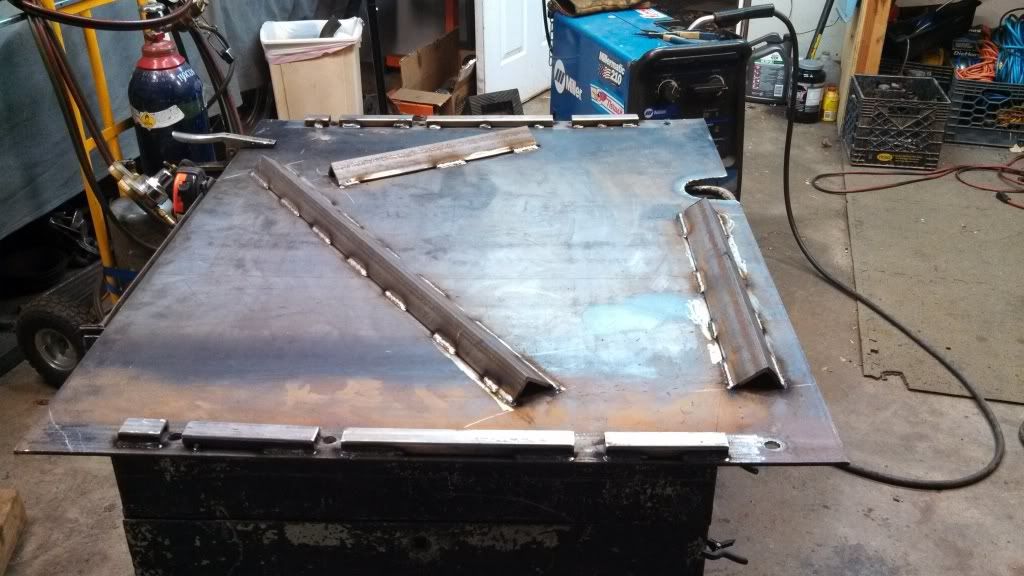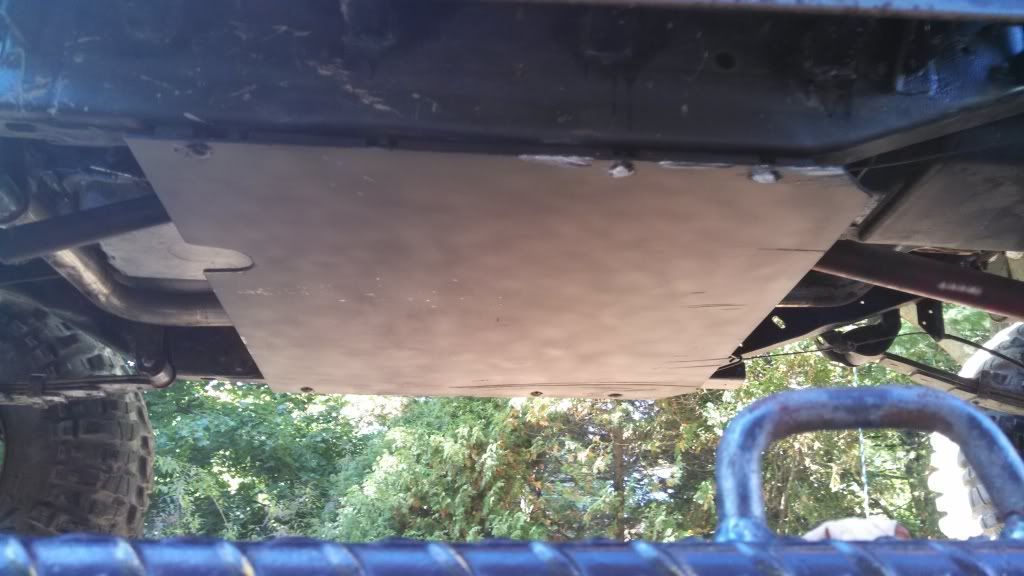 you can see in this pic above where I slammed it on some rocks that day and the carriage bolts got hit. the reason to use carriage bolts right there. any hex head bolt would be destroyed and just act as an anchor when sliding over stuff.