First off this mod is highly featured in Pirate and other forums but what I learned by looking at 100 threads was that no one really does a detailed job and I was left with a trillion questions. So here goes and I will try to update as I progress.

As many of you know you can buy a PSC kit and have everything from soup to nuts for about $1000. But #### that Im going to show you how to do it for about $180. The things you will need are,

1) A good well working stock 4wd or 2wd steering box.
2) A good healthy power steering pump
3) One hydraulic Ram
4) Two hydro lines
5) a bunch of NPT and JIC fittings
6) tabs to mount the ram to axle tube and tie rod
7) a Power steering cooler
8) new end plug with NPT fitting
9) tapped top cap with NPT fitting

(8&9 can be bypassed if you want to tap your box like all the Jeep guys do) But they probably wouldnt if they could get the caps like we can for the JK, XJ, and early YJ/CJ
Basically there are two ways to do this. Tap your box, which requires taking the steering box off your truck, drilling and tapping the side of the case where there are fluid ports, and placing fittings in there. Then a complete teardown of the box, to clean all the metal shaving out of it. Or the second way which is what I chose, tap your top cap of your steering box, and buy a new end plug with a NPT fitting already bult into it.This way you can leave the steering box in the truck, take the end plug and top cap off to modify them, put them back on and your done. ALso doing it like this you can re use the end plug and top cap should you ever grenade a box. You dont need to tap another box, just switch caps
Here is what I got, I got everything from Surpluss Center.com other than my end plug, and my o-ring/retaining ring. Also the steel brackets in the pic I fabbed up myself. The ram is an 8" stroke, by 1.5" bore. Basically the bigger the bore the slower the ram. 1.5 seems pretty good for 40" tires. 44" and up Id go to the 2".
The first thing I did was hook up my cooler. Because of the intense heat the ram builds up you need to run one. Its a must. Run it from the return line on your pump. I used a simple tube and fin tranny cooler from summit I got for $35 bucks.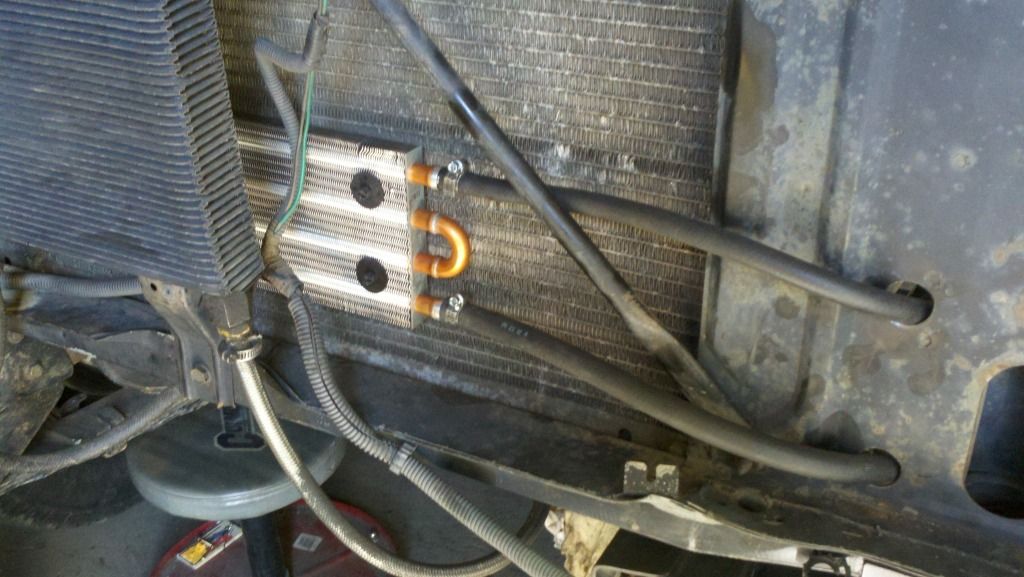 Also when I did this I replaced my return line on my box. I turned it oposite the way its supposed to be so that it ran towards my cooler instead of my pump. It worked out great this way.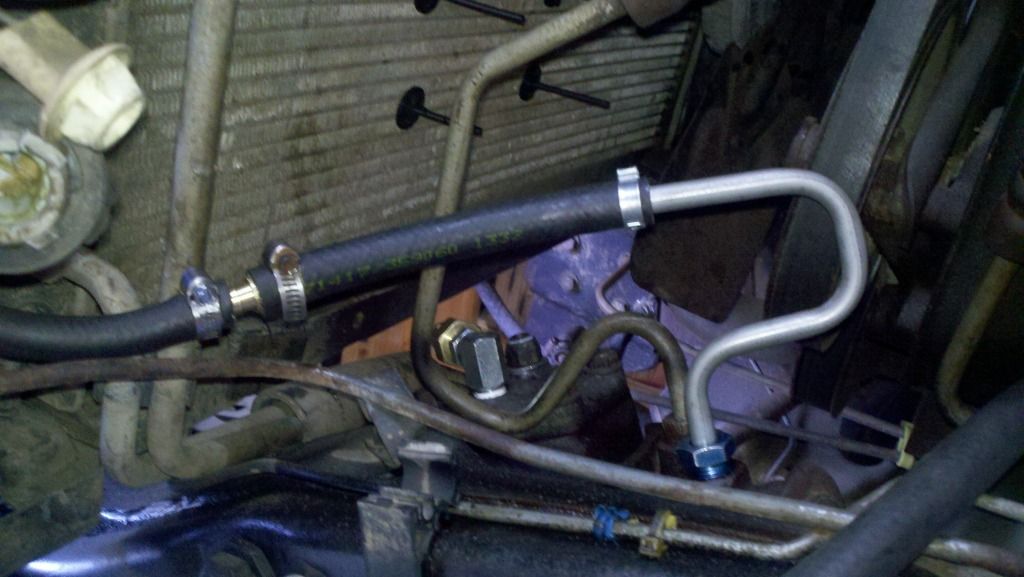 The next thing I did was tap my top cap. This thing is very think and will be fine for tapping. Use a tap for a .25" NPT fitting. You need to drill the hole with a 7/16 drill bit, then use a .25" tap for NPT (its big). You can re use the gasket under the top cap. Be careful not to mess it up. When you remove this cap, put an allen wrench on the adjustment nut and unscrew the nut. Then screw off the top cap keeping the allen wrench there stationary so you dont throw off your stock adjustment. The top cap screws off that nut like a big nut. then make the hole in the cap. This is where the hole goes. (its the bottom one)

get it right in this area
Then tap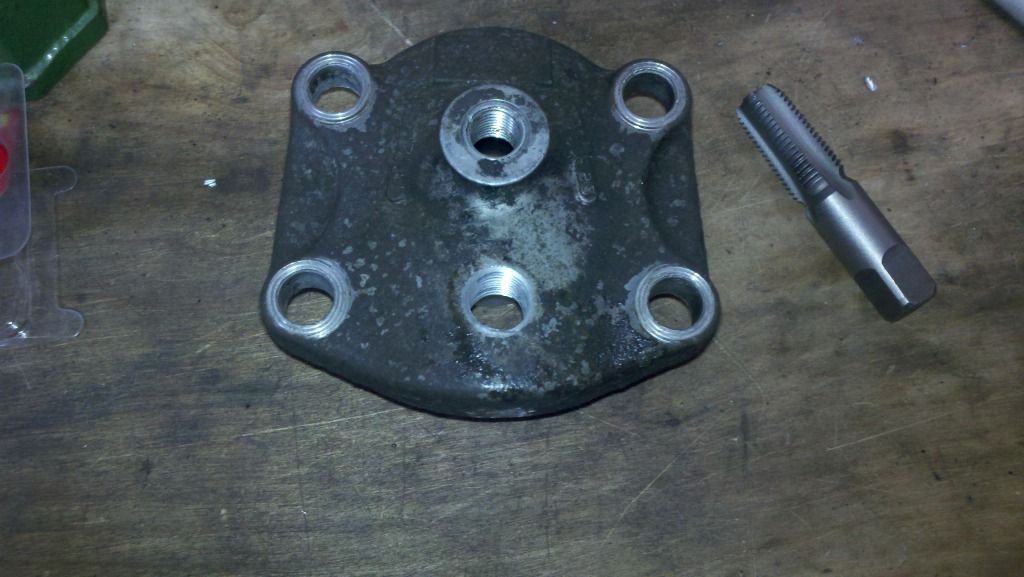 Next add your fitting. I used a 90* because I need it to turn that way, which most of you will too if its a chevy/gmc truck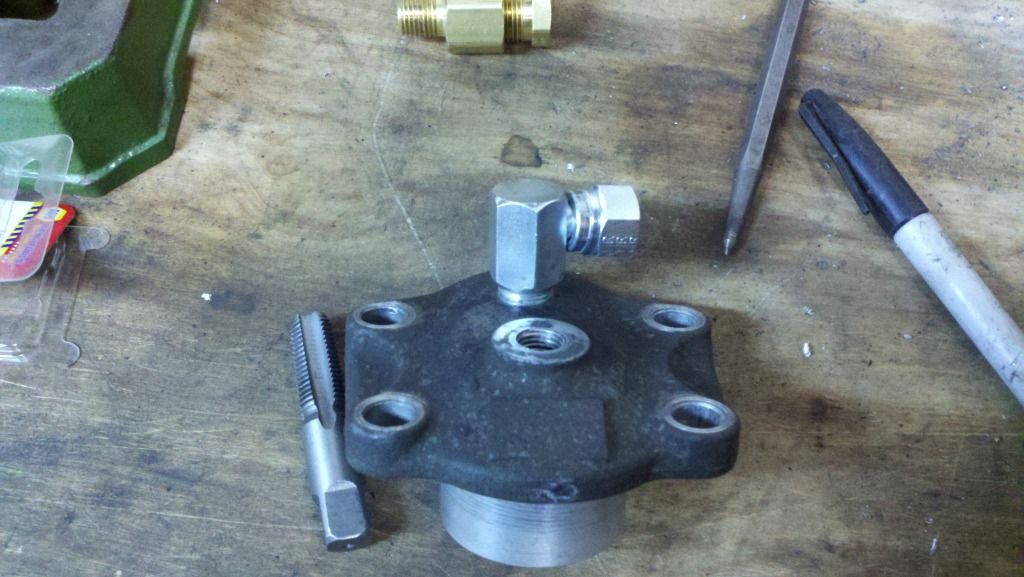 Your done, put it on the truck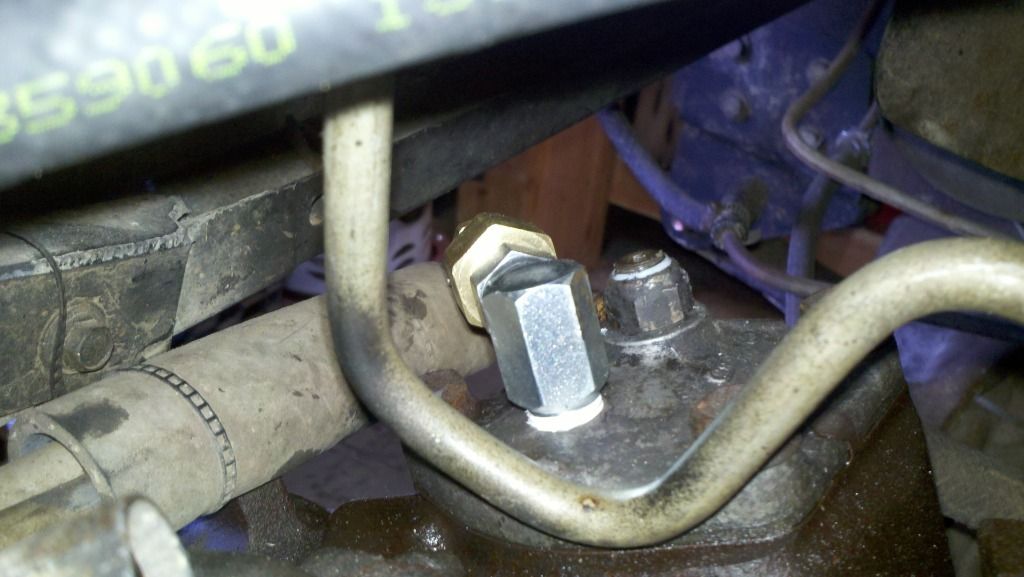 next comes the fun part of taking off your end plug. heehee. Have fun getting the retaining ring off. Its a b*tch. You need to push something like an awl through the top of the box case. There is a hole made there for you just for this purpose. You un-seat the retaining ring with an awl or something, then you can grab it with pliers and dont let go. Work it out with a screwdriver, or pry bar. you have to work these things hard, they dont like to come out. Then when you finally get it out, to remove the end plug, start the truck, and turn the steering wheel to the left. Just slight turning will pop that thing right off. Remember the fluid will come pouring out, so be ready. I hung a 5 gallon bucket off the pointed part of the casting right on top of the box. when it popped off all the fluid poured right into it. get creative. But dont forget as soon as you hear it pop off turn the truck off IMMEDIATELY so you dont run your pump dry. I tried it first with the truck off and it didnt come out. I have removed these plugs with a dry box out of the truck and they are near impossible to get out. if you use my method that thing will bust out in seconds. Here is what it looks like after it comes out.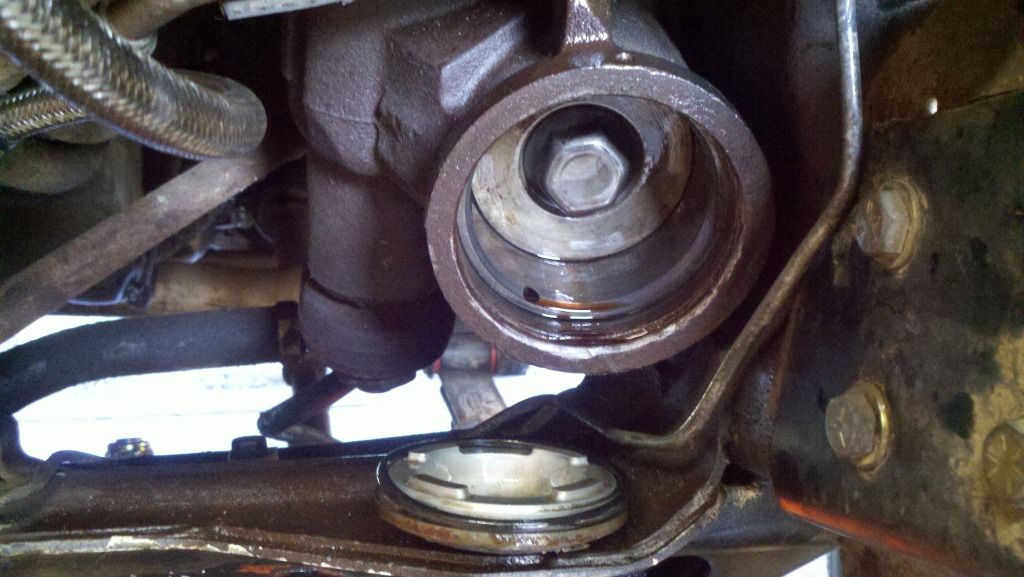 clean it up a little and put your new end plug with its tapped fitting in. I got this from JKW offroad for $40. It fit great. Here is a huge help. It is near impossible to find a new retaining ring and O ring. I looked high and low. I finally found a rebuild kit from autozone that they had to special order. the pic below shows the kit and its part number on the bag. get it before you start this mod!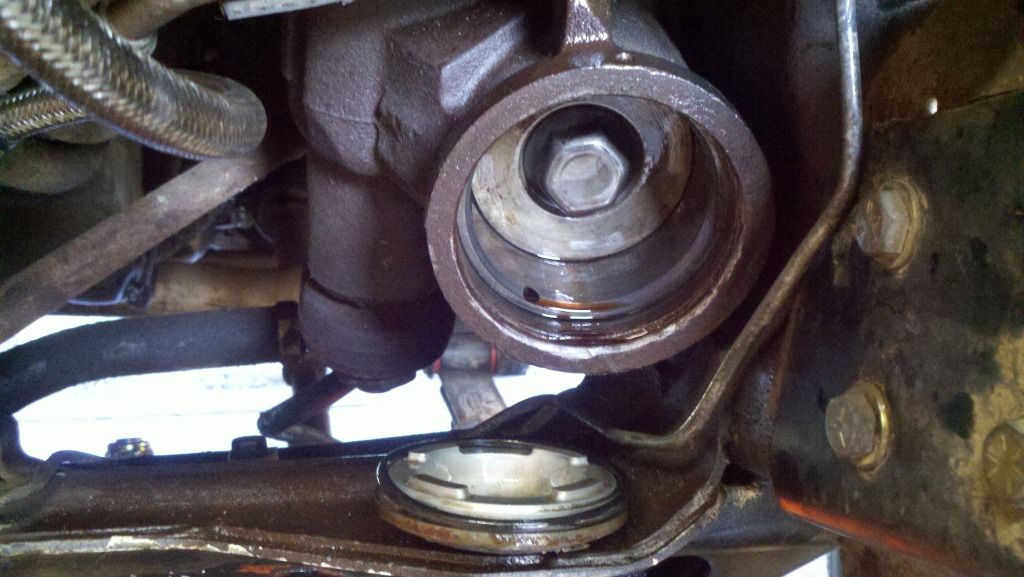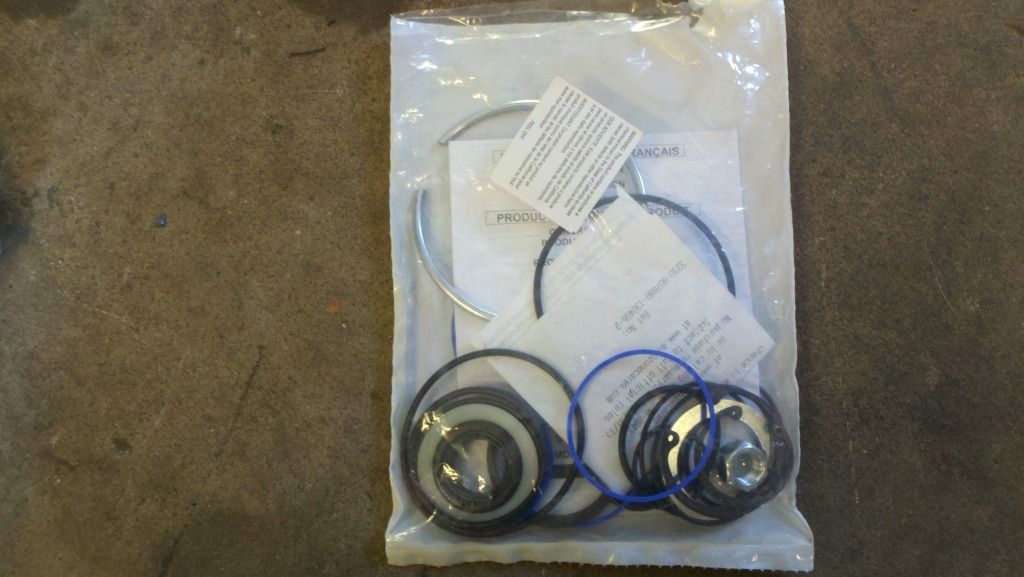 Here is the new end plug installed and the retaining ring installed. The O ring goes behind it. You will see it on your old end plug.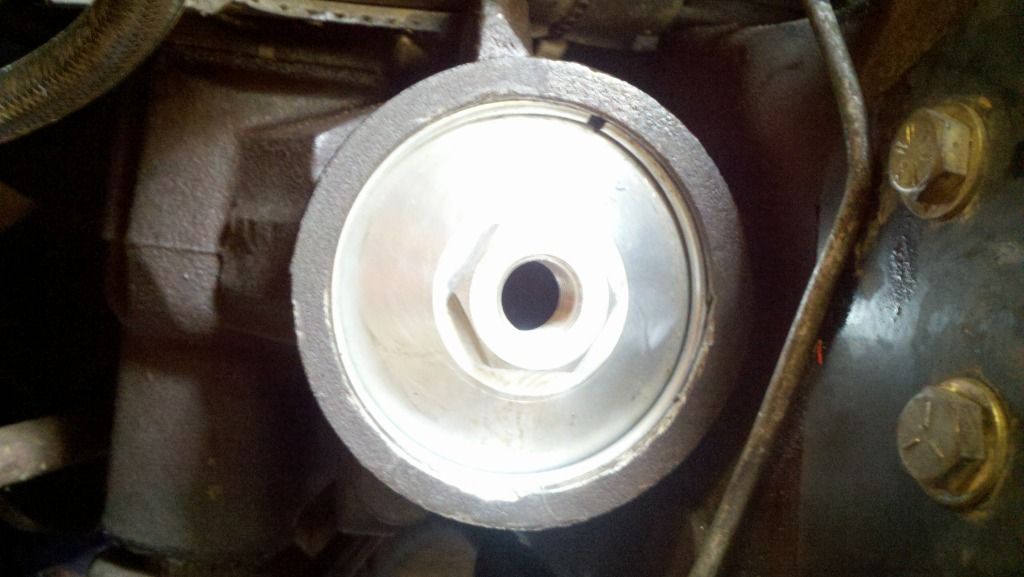 When installing make note to install the retaining ring so that it can be pushed out by an awl at a later date. in this pic notice I put it in so the gap is NOT where the hole is. Dont screw that up or it will NEVER come out. you want it close to the hole so it pushes down, but not too close.
The next step here is to hook up your lines. Make your life a whole lot easier and buy the swivel fittings so that you dont have to try and twist your lines. Just screw them in.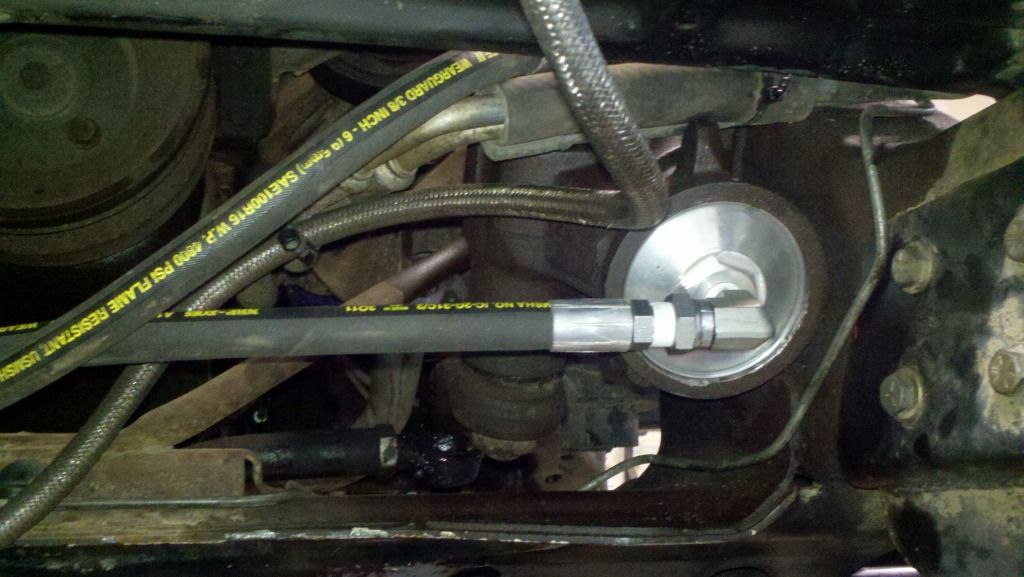 here is the way I mounted my ram with high steer.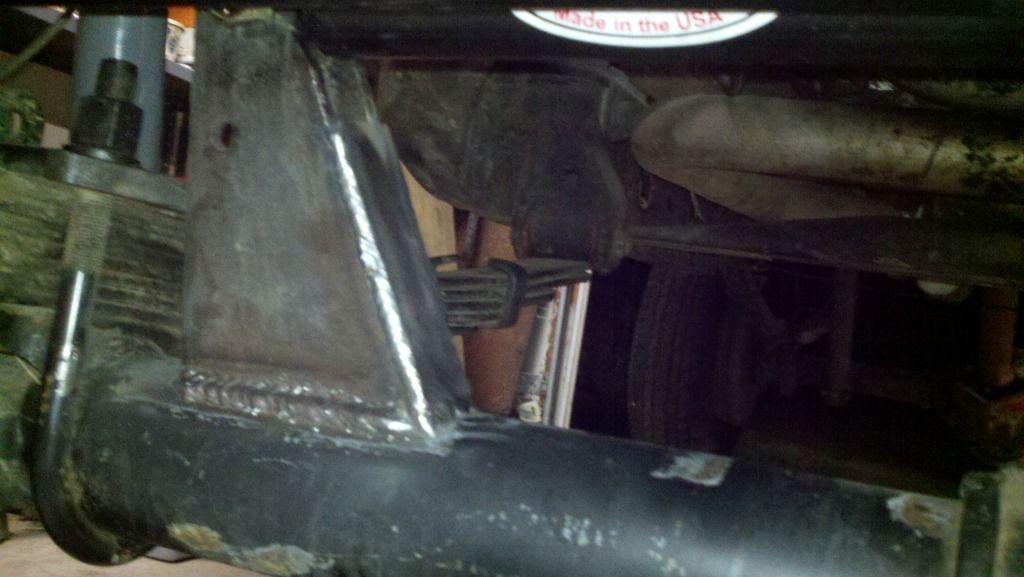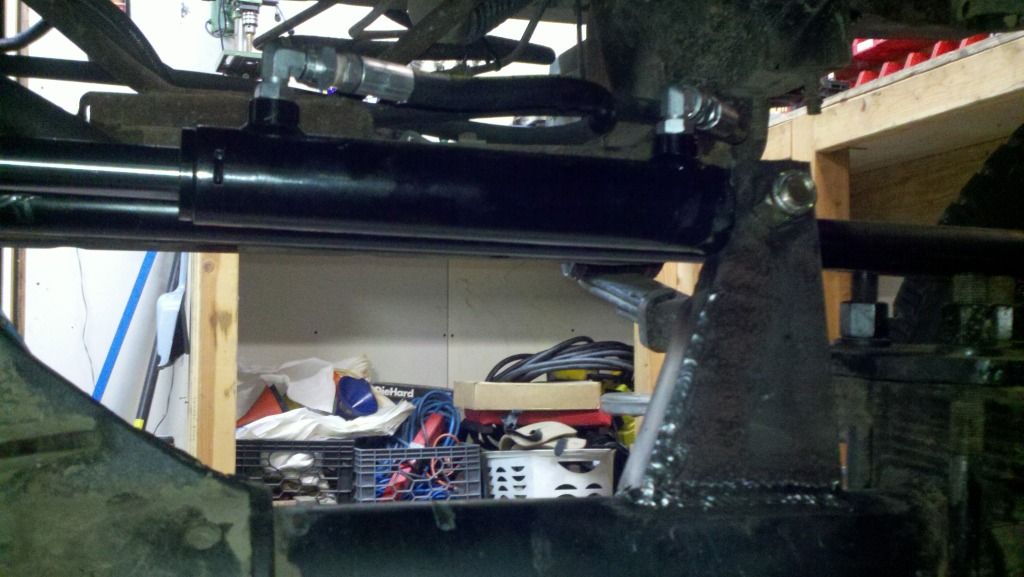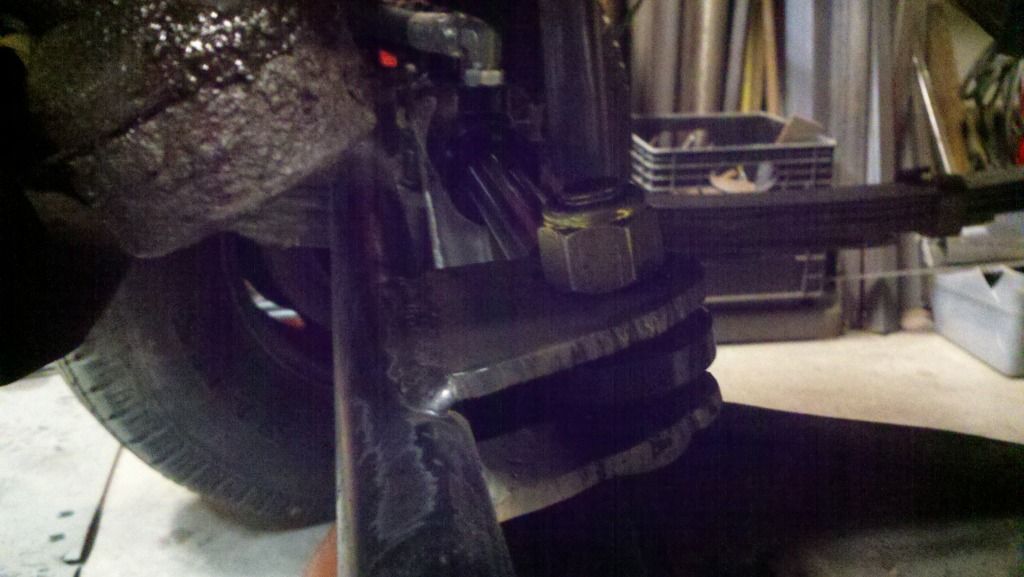 here is the end result. finished.
This whole mod cost me less than $200 and now I can turn my wheel with one finger with 40" boggers. Best mod I haave ever done to my truck other than a SAS. No need for a steering stabilizer anymore, no need for an XJ steering shaft. It turns like a sports car.the only other thing that you really need to know about this mod is after you get it all hooked up, it needs to be bled properly. To do this use these steps.

1) Jack up the front end to get both tires off the ground. mount the ram to its fixed point, but do not hook it up to the tie rod. leave it hanging there. ( you will see why in a few steps)

2) with the truck off, go lock to lock with the steering wheel while continually checking the pump. Fill it as it sucks the fluid in

3) When your pump levels off and you are not getting any more bubbles comming out its time to start the truck.

4) Start it for a few seconds and turn it off, it will suck in all the fluid. Refil the pump resivoir and do again.

5) You may need to do this a few times, because when you start it it will suck in the fluid very fast and you will hear your pump whine. you need to turn the motor off before the pump sucks in air and you ruin your pump. Once it seems like your pump has taken enough fluid and its not sucking in a lot anymore, go lock to lock (with truck still off) until it stops bubbling.

6) At this point give the truck a few minutes for the fluid to settle and the air to work its way out. Then turn your wheels to lock one way and fire it up. It will again suck in fluid and you may need to do step 4 again. if it doesnt suck it all in and the pump in not emptying, go lock to lock until you notice the pump emptying. Turn engine off, and refill. You will need to do this until the ram starts moving. Once it does, you will know if you put your lines on right. If they are put on backwards the ram will extract, then retract and keep going back and forth. If this happens, switch your lines, (at the ram) and do the bleeding procedure again. I of course had to do this. once i reversed the lines the ram functioned properly on the steering wheel.

7) Once you know the system is bled pretty good and your ram lines are hooked up right, you are ready to tack on your ram to the tie rod. make sure the wheels are straight, and pull the ram out (by hand) so its in the middle of its stroke. With the ram in the middle of its stroke and the wheels perfectly straight, now you can tack on your ram to the tie rod where it lays. tack it on, and then fire up the truck, and cycle the steering to make sure it is set properly. if it is, weld everything up.

8) your welded up, and ram working properly, so get in the truck, and with the truck on, go lock to lock, MANY times, to work the last little bits of air out of the system and get the ram working proplerly. It will get easier and easier until you can turn the wheel with one finger. when this is happening check your pump, fill if needed, make sure everything is tight and go wheel.
Problems with bleeding can be because, you have a bad seal in the ram (dont buy a used one) , you have bad seals at the hoses, or your tapped fittings, or your pump is not the highest component in your system. So be sure to mount the cooler below it (hight wise). Hope this helps, now get er done.